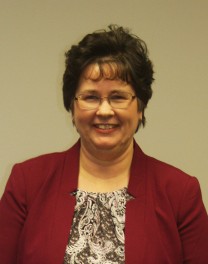 Patricia (Pat) Frankenstein has been employed with American Bank since 1978 in a variety of positions and is currently the bank's Executive Vice President & Chief Financial Officer. In addition to this position, Pat has served as Secretary to the American Bank Board of Directors since 1996. In 2004 Pat was elected to the Ambanc Financial Services, Inc. Board of Directors and serves as the board secretary.
Pat also serves the local community through her leadership role as one of the lead coordinators of the Dodge County Toy Bank Inc., a non-profit organization dedicated to providing toys and other gifts to families in need throughout Dodge County, Wisconsin during the holiday season.
Pat and her husband, Mike, live in Beaver Dam, Wisconsin and have one son, Eric; two daughters, Andrea and Megan; and one grandson, Hunter. When not working or volunteering with the Dodge County Toy Bank, Pat enjoys spending time with family & friends, hiking, traveling, reading, and relaxing at home on her deck.